Brookdale Angus is a family-run operation located in extreme northwest Iowa two miles from the Minnesota border and eight miles from the South Dakota border. It is run by Mark and his son Scott with help from sons Gregg and Matt when available. The Metzger family and purebred cattle trace back nearly 100 years to when when Mark's grandfather, Fred Metzger, had polled Herefords. His first production sale was in 1923 and the sale catalog is proudly displayed in our farm office. The Polled Herefords were dispersed when WW II came along and help was short. Meanwhile, Jersey dairy cattle were brought onto the farm in the early 1920's. DHI (Dairy Herd Improvement) records date back as early as 1926, as Fred, Sr. was an early believer in performance records, whether it was for dairy or beef. Fred, Jr. (Mark's father) took an extreme interest in the registered Jerseys and developed one of the top herds in the Midwest.
In the late 60's and early 70's, Fred Jr. decided to get back into beef cows. He again experimented with Polled Herefords and tried Simmentals also. However, in 1973, he bought his first Registered Angus cows and he quickly realized their superiority over other breeds due to their maternal excellence. Our Lady Burgess cow family traces back to that original purchase.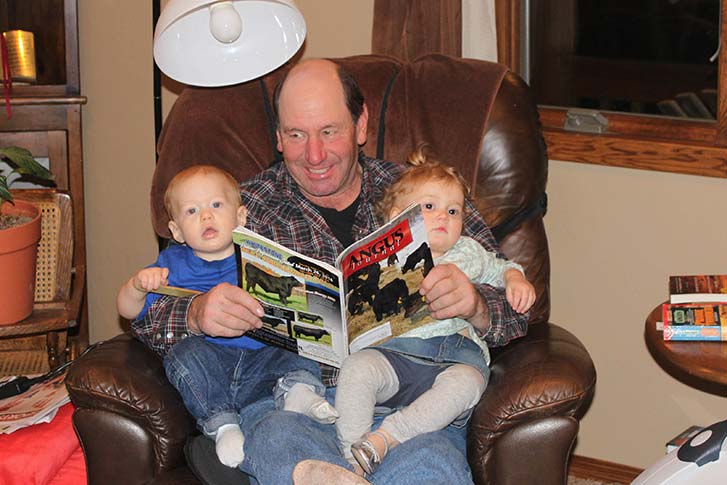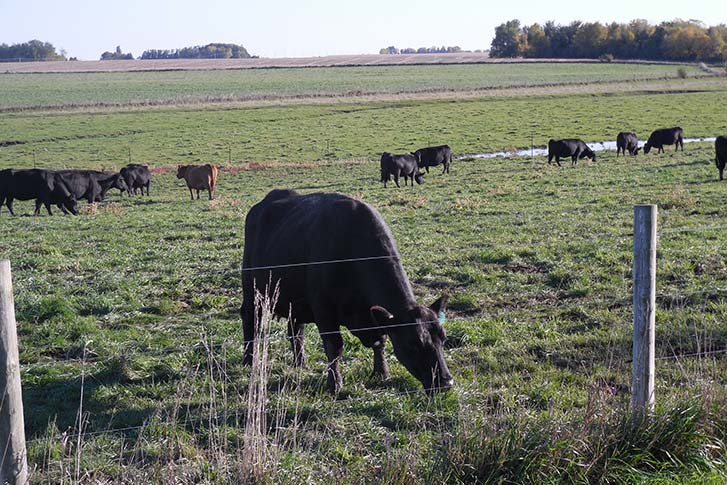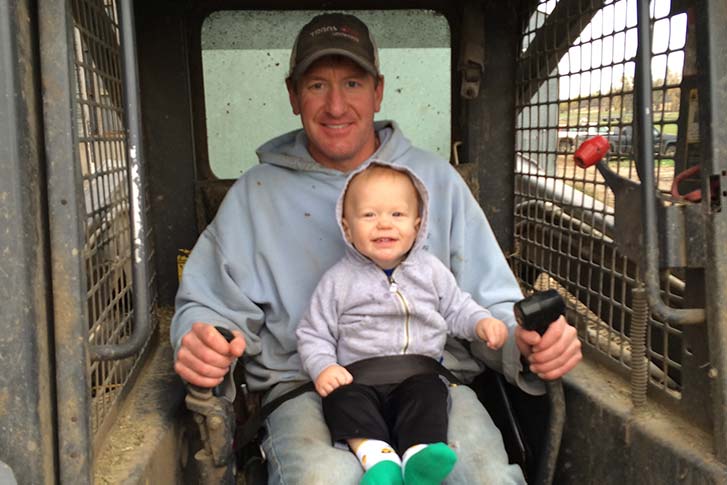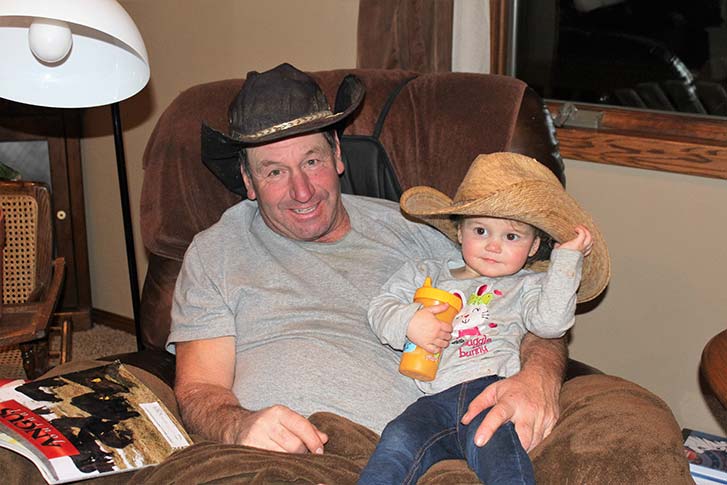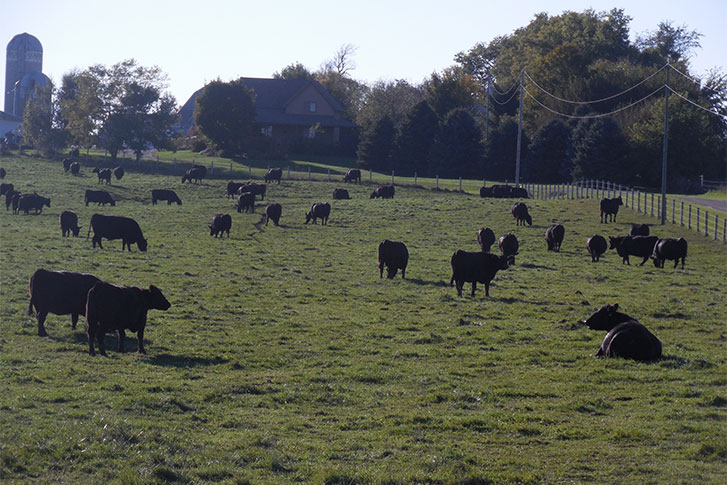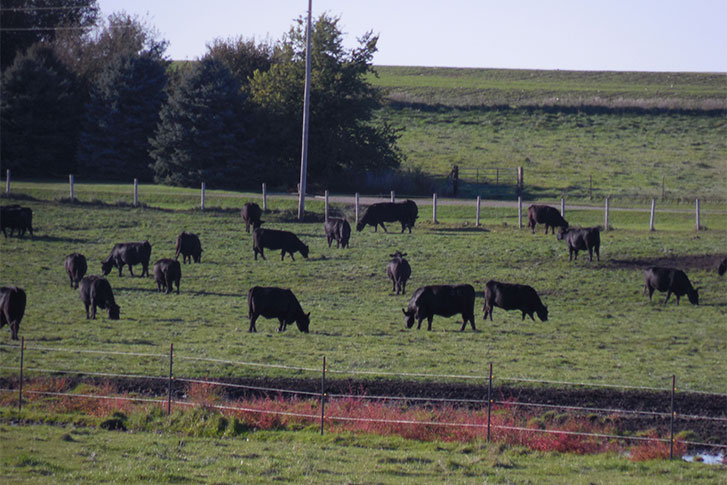 Mark came back to the farm in 1975, after one year in a technical college. In 1976, he married Audrey, bought his first Registered Angus cows, and went to A.I. school. In 1979, Mark traveled to Shady Lane Farms dispersal in Clear Lake, SD, and bought several head. Our Ann and one of our Blackcap families trace back to that purchase. A herd of structurally correct performance cows had been assembled by the time the Farm Crisis of early 80's hit, and unfortunately, due to financial difficulties during that time, the herd was mostly dispersed. A few cattle remained, but not until the early 90's did Mark start to put together the herd that exists today.
Meanwhile in the early 80's, in an attempt to get back on his feet financially, Mark started to put together again a herd of Registered Jerseys. He always believed that good-looking cows could also perform. Many top 10 finishers at the All-American Jersey Show in Louisville, KY, were exhibited, including the Reserve Jr. 3-year-old cow in 1989. In 1998, that herd was the #2 PTI (Performance Type Index) herd in the nation. At the time this herd was dispersed in 2014, there had been 130 "Excellent" rated cows bred and raised by Mark.
The lessons learned from the dairy business helped us to develop a high-producing, good-uddered, good-looking herd of maternally excellent Angus cows.
In the late 1990's, Mark was introduced to Lyle Hafner of Red Barn Angus from Volin, SD. He was so impressed with Lyle's cattle that he bought several head, from which our Progress, Miss Wix, Black Rose and Empress cow families originate. In about 2000, Mark got to know Mike Assman, and purchased a few bulls from him, most notably, ALC Jackpot and ALC Telstar, who did a great job and left many outstanding daughters. When Mike dispersed in 2008, many cattle were purchased on the sale, from which our Forever Lady, Blackcap E03F, and Lady cow families come from.
Our goal at Brookdale Angus has always been to produce structurally correct performance cattle with the commercial man in mind. We have been on AHIR from the beginning, and have a strong AI program. We do a lot of ET work, both conventional and IVF. Scott previously worked at Trans Ova Genetics, and his excellent understanding of all that pertains to reproduction has enhanced our program here. Genomic testing and ultrasound for carcass traits for all bulls and females are also keys to our program.
Our 10th Annual Production Sale will be Friday, March 4th, 2022. It is very rewarding to see our offering improve from year to year, and we hope you also can appreciate the fine cattle that Brookdale Angus has come to be known for. Visitors are always welcome at the farm, as we enjoy showing people our herd and just talking cattle with others who love the Angus breed.